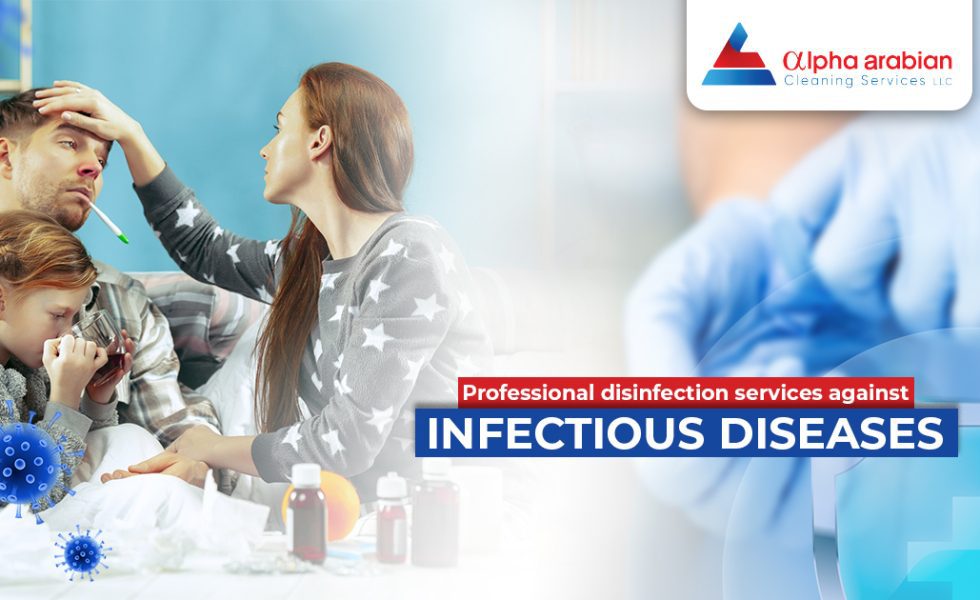 Disinfection
Professional disinfection services against  infectious diseases
Prioritizing good hygiene practices and engaging professional disinfection services are vital in curbing the transmission of infectious diseases originating from bacteria, viruses, and fungi. Safeguarding health and ensuring safety should be the foremost concern for everyone. Disinfecting can kill the germs effectively that remain on surfaces. The finest disinfection services like Alpha Arabian disinfection services assists in eliminating contagious diseases which may spread from one person to another.
This blog focuses on the importance of Good hygiene and Food safety, from infectious diseases like fungus, Bacteria and virus diseases and the role of professional disinfection services in ensuring a clean and safe home and office environment.
Understanding the Significance of Hygiene Practices:
Emphasize the importance of handwashing after coughing, touching tissues, and high-touch surfaces.
Highlight the benefits of using soap and water or alcohol-based hand sanitizers.
Explain how infectious diseases can impact individuals with weakened immune systems and underlying health and safety conditions.
Essential Hygiene for Daily Life:
Promote regular handwashing after returning from outside or touching items.
Encourage covering the nose when coughing or sneezing to prevent the spread of respiratory infections.
Highlight the importance of seeking medical examinations for animal bites to mitigate the risk of infection.
Take care against sharing utensils, glasses, and dishes to minimize the transmission of germs.
Avoid contact with napkins and items used by others to reduce the risk of contamination.
Ensuring Food Safety:
Address the dangers of foodborne diseases and their potential severe consequences.
Advise rinsing meat, fish, fruits, and vegetables under running water before cooking.
Highlight the significance of handwashing before and after handling raw meat.
Encourage using separate utensils for washing and cooking meat.
Stress the importance of covering and refrigerating food after use.
Common Virus Diseases
In overcrowded areas like labor camps, diseases such as AIDS, the common cold, Ebola, influenza, measles, chickenpox, and the corona virus diseases have a significant prevalence and profound impact. The crowded conditions facilitate the transmission of these illnesses, posing serious health risks to the inhabitants and potentially leading to severe consequences.
Bacterial Infections and Their Impact:
Examine the risks posed by bacteria diseases such as malaria and toxoplasmosis, understanding their potential implications and impact on human health.
Fungal Infections and Preventive Measures:
Discuss common fungal infections like throat pain, tuberculosis, and urinary tract infections.
Highlight the importance of maintaining good hygiene for a clean, to prevent fungal growth and infections.
Expert disinfecting service for a Healthy Environment:
Introduce Alpha Arabian Disinfection Service for a healthy environment.
Emphasize the benefits of disinfection services in ensuring a clean and hygienic home and office.
Highlight the importance of regular consultations with experts and weekly sanitization process for the elimination of fungus, bacteria and virus diseases to prioritize health and well-being.
Promoting Health Through Expert Sanitization Services.
By adopting and promoting good hygiene practices and availing expert sanitization services, individuals can eliminate fungus, bacteria, and virus diseases from their surroundings, leading to a healthier and safer environment. Prioritizing hygiene and seeking professional assistance is essential for protecting against infectious diseases