Housemaid cleaning services in Dubai
 Alpha Arabian Services provides professional Housemaid cleaning services for flats, villas, homes, offices, and residential properties in Dubai. Our comprehensive housemaid cleaning services in Dubai encompass dusting, vacuuming, and mopping the floors. We ensure that every corner of your space is thoroughly cleaned and refreshed. We provide top-notch quality services across the UAE.
The best way for residential and commercial property owners to maintain a clean and neat home is to hire housemaid services. By booking our services, you can free up valuable time to focus on other important tasks while leaving the cleaning responsibilities in our capable hands. For an enhanced home environment, the housemaid cleaning services in Dubai offers the ultimate solution.
Top Kitchen Cleaning Services in Dubai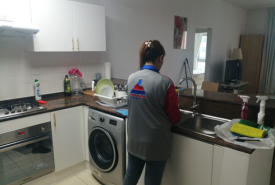 We specialize in offering high-quality solutions for all of your kitchen cleaning requirements. Our team of kitchen cleaning services in Dubai will meticulously clean various kitchen areas, including floors, countertops, sinks, utensils, appliances, cabinets, vessels, fridges, cooking ranges, and dishes. Rest assured that we prioritize your family's well-being by using safe cleaning products that do not pose harm to your loved ones.
Our kitchen cleaning services in Dubai catered to both residential and commercial clients. Our efficient team of kitchen cleaning services is skilled in handling kitchen appliances such as ovens, fridges, washing machines, and other vessels, ensuring that they are thoroughly cleaned and maintained
Ironing and Laundry Services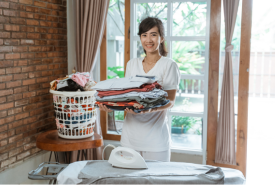 We offer a professional ironing and laundry services in Dubai. Our highly skilled housemaids are adept at handling your laundry needs and ironing your clothes to perfection. They will delicately handle different types of fabrics and ensure that your garments return to their original state.
Along with providing top-notch ironing and laundry services in Dubai, we offer other services to meet customer requirements. With our attention to detail and commitment to professionalism, Alpha Arabian Maids is your trusted choice for expert ironing and laundry services in Dubai.
 Window Cleaning Services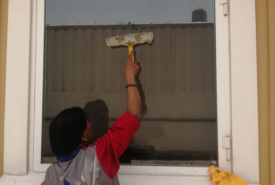 Our Window cleaning services in Dubai will meticulously clean and restore the shine of your windows and glass surfaces. We deliver high standards of cleanliness and ensure a crystal-clear view for you to enjoy.
We have been providing a new appeal to the commercial as well as residential with our customized window cleaning services. With over a decade of experience, our window cleaning services in Dubai will be able to meet customer requirements and render quality results.
Bathroom Cleaning Services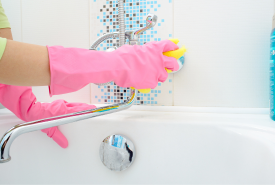 Alpha Arabian is equipped with highly skilled cleaning professionals who attend to all aspects of bathroom cleaning services. Trust our bathroom cleaning services in Dubai to provide a hygienic and sparkling clean bathroom that exceeds your expectations. Our dedicated team tackles the time-consuming task efficiently and thoroughly.
Whether you are planning to clean your washroom, our team is here to give you a complete refresh. So it is necessary to clean your bathroom on a daily or weekly basis. If you have multiple bathrooms or heavily used ones, our maids have the skills to identify problem areas and utilize appropriate cleaning solutions tailored to your specific needs.
                 Alpha Arabian cleaning services in Dubai take pride in our commitment to delivering quality services in Dubai. Whether it's residential or commercial cleaning, kitchen cleaning, ironing and laundry, window cleaning, or bathroom cleaning. Expert cleaning services are necessary to stop the spread of bacteria and germs. Alpha Arabian cleaning service in Dubai takes the best method to sanitize specific areas. Our professional and skilled team is here to serve you. Contact us to experience alpha Arabian cleaning services in Dubai, tailored to your unique requirements.