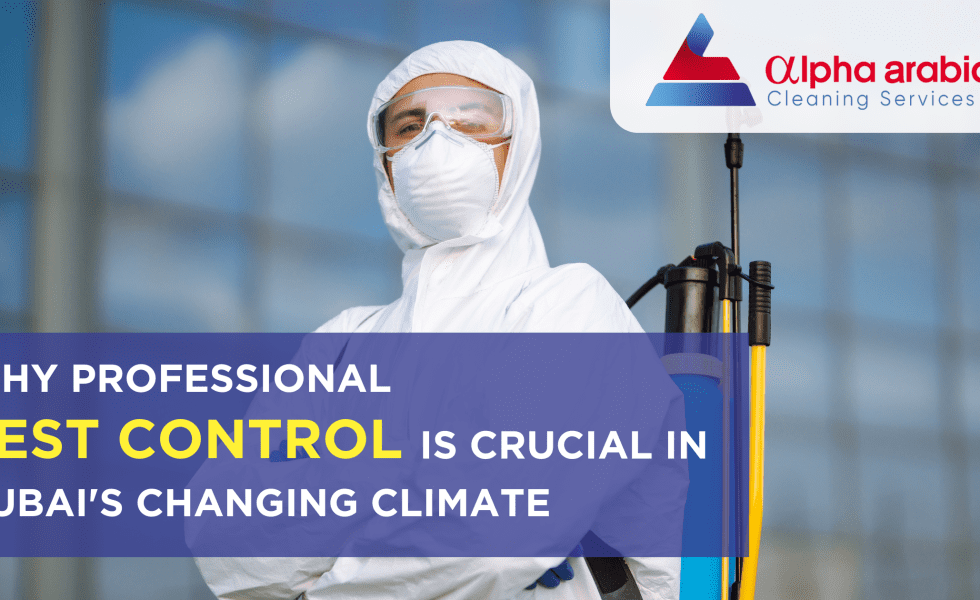 Pest Control Service
Why Professional Pest Control is Crucial in Dubai's Changing Climate
Dubai's Changing Climate, driven by the city's rapid growth and population of over 4 million people, has made professional pest control services more crucial than ever. In this blog, Alpha Arabian Pest Control in Dubai delves into the significance of these pest control services. And how they are instrumental in maintaining a safe and healthy environment for residents and businesses with diverse backgrounds and origins.
The Growing Demand for Pest Control in Dubai
Dubai's rapid expansion has resulted in an increased demand for pest control services. The city's status as a top tourist destination has led to infestations of cockroaches, ants, termites, and rodents due to the growing population. The hot and arid summers drive these pests indoors for food, water, and shelter.
As temperatures rise due to climatic changes in Dubai, the frequency and intensity of pest infestations are likely to increase. These pests not only pose health risks but also damage property. To address this issue, professional pest management services have become indispensable.
Professional Pest Control Methods
Professional pest control companies, including Alpha Arabian Pest Control in Dubai, employ effective methods to combat these pests. Tailoring their strategies to the specific challenges posed by each type of infestation, these experts ensure maximum effectiveness.
For instance, to eliminate cockroach infestations, they use baiting, spraying, trapping, and fumigation techniques. Bedbugs, which are notoriously challenging to identify and eradicate, require specialized treatments. Pest Management Companies employ dusting, insecticidal treatments, heat treatments, and post-treatment clean and vacuum procedures. This eliminates bedbugs and their eggs, providing long-lasting relief.
Rats and mice, in particular, pose a substantial problem in Dubai, inflicting damage on businesses like food manufacturing units, central kitchens, restaurants, supermarkets, and warehouses. These pests compromise food products, stationery items, electrical wiring, and even the structural integrity of buildings. Alpha Arabian employs various strategies to effectively address infestations. This includes sticky traps, cages, baits, poisons, rodent bait stations, and exclusion methods.
Professional pest control in Dubai is a vital component of maintaining a safe and pest-free environment for residents and businesses. They are customized to address specific pest challenges and demonstrate the expertise and dedication of pest control experts in the region. Whether it's cockroaches, bedbugs, or rodents, these methods ensure that infestations are effectively managed and that the health and well-being of the community remain safeguarded.
Combatting Infestations Head-On
Dubai's unique climate and urban landscape make it susceptible to various pests. Professional companies must adapt their strategies to confront these challenges head-on. Thus ensuring the comfort and safety of both residents and businesses.
The Emphasis on Prevention
Preventing pest infestations is a primary focus for professional pest management companies in Dubai. To address this, they employ Integrated Pest Management (IPM) methods. The IPM approach involves identifying the root causes of pest problems and adopting preventive measures to eliminate them permanently. These measures include:
Regular Inspections: Scheduled inspections help identify potential pest issues before they spiral out of control. Regular Inspection allows for early intervention and prevention.
Responsible Waste Disposal: Proper waste disposal is crucial in preventing pests. By eliminating potential food sources, it helps keep pests at bay.
Effective Cleaning Practices: Maintaining cleanliness and hygiene reduces the likelihood of pest infestations, creating an unwelcome environment for pests.
Sanitization Procedures: Sanitization not only wards off pests but also ensures a healthy and safe living environment for residents.
Exclusion Methods: Sealing cracks and crevices is a vital part of preventing pests from entering homes and businesses, effectively blocking their entry points.
Choosing Licensed Pest Control in Dubai
Climatic Changes in Dubai and the Vital Role of Professional Pest Service are indispensable for maintaining a healthy and safe environment in Dubai. The city's diverse population, with varying lifestyles and cultures, necessitates services that cater to different needs. Municipality-approved Pest Control in Dubai adheres to standard methods and implements Integrated Pest Management programs to address these diverse requirements.
To ensure safety and quality, it is strongly recommended to choose a licensed pest control company like Alpha Arabian Pest Control in Dubai rather than relying on natural or alternative methods. Alpha Arabian's professional services are the key to keeping safe and pest-free in Dubai's changing climate
Conclusion
The role of professional pest control in Dubai's changing climate cannot overstated. The city's remarkable growth and diverse population have created a habitat conducive to various pests, posing health risks and property damage. By employing effective pest control methods and focusing on prevention, licensed pest control companies play a vital role in ensuring a safe and pest-free environment for residents and businesses alike.
As Dubai's changing climate continues, these services will be instrumental in maintaining the city's high living standards and preserving the integrity of its businesses. Choose Alpha Arabian Professional Pest Control in Dubai for a healthier, safer, and protected home and business from unwanted guests who thrive in the changing climate of this remarkable city.