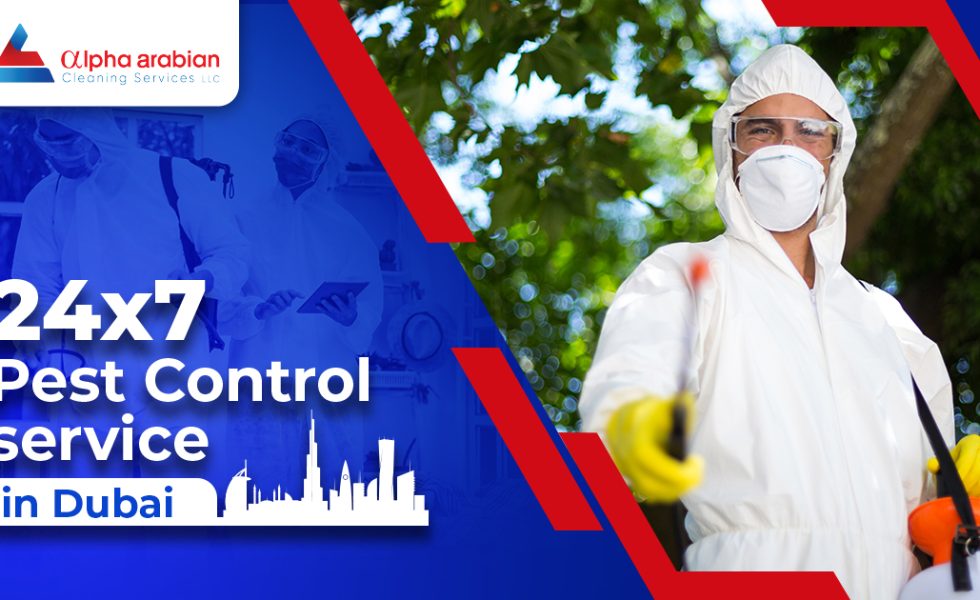 Pest Control Service
24×7 Pest Control Services in Dubai | Emergency Service by Alpha Arabian Company
Are you plagued by pesky pests that have invaded your home or business, leaving you professional 24×7 pest control services and disinfection solutions? Look no further than Alpha Arabian Pest Control Dubai, your unwavering partner in delivering swift and effective solutions for all pest-related issues.
Our Commitment to Excellence
At Alpha Arabian Pest Control, we take immense pride in presenting Dubai's premier 24×7 pest control services at highly competitive prices.  Alpha Arabian Company's team of experts is well-prepared to tackle a wide spectrum of pest-related concerns, ensuring a pest-free environment in both residential and commercial spaces.
Alpha Arabian Comprehensive Services
Alpha Arabian Pest Control specializes in a wide variety of pest control solutions, making them a one-stop destination for all your pest-related concerns:
Bedbug Pest Control: Rest easy without the bedbug nightmare.
Cockroach Pest Control: Say goodbye to these unwanted house guests.
Mosquito Pest Control: Enjoy your outdoor spaces without the buzz and bites.
Ants Pest Control: Keep your pantry ant-free.
Snake Control: Ensuring safety in and around your premises.
Termite Control: Keep quiet destroyers away from your property.
Rats Pest Control: Keep your premises rodent-free.
Flies Control Services: A hygienic environment free from disease carriers.
Fleas and Ticks Pest Control: Ensure your pets and home are flea and tick-free.
Beetle Control Services: Protect your stored goods from beetles.
Rodent Control: Comprehensive rodent management solutions.
Animal Control: Ethical and humane animal removal services.
Lizard Control Services: Keep your walls lizard-free.
Bee Hive Removal: Removing bee hives without harm.
Honey Bee Control: Safe and responsible honey bee management.
Spider Control: Eliminate your spider concerns.
House Fly Control: Keep your living spaces fly-free.
Fruit Flies Control: Maintain a fresh and fruit fly-free environment.
Why Choose Alpha Arabian Pest Control?
Our unwavering commitment to customer satisfaction sets us apart from the crowd of pest control companies in Dubai. Alpha Arabian Company firmly believes in establishing enduring relationships with clients, providing them with effective 24×7 pest control services to address their pest-related concerns. The team of experts is always ready to lend an ear to client needs and deliver the finest pest control services possible.
What Makes Us Different?
Comprehensive Pest Control: Alpha Arabian Pest Control Company specializes in eliminating all types of pests, from bed bugs and cockroaches to troublesome flies.
Regulatory Compliance: Strictly adhere to local authority rules and regulations, using only approved pesticides with proper registration and Material Safety Data Sheets (MSDS).
Affordability: Services are effective and affordable making it easier for satisfied customers to recommend us to others.
Advanced Technology: Alpha Arabian Pest Control Dubai employs advanced technology and innovative methods to eliminate pests, ensuring a pest-free and hygienic environment.
Conclusion
When pests threaten your peace, it's crucial to have a reliable partner at your side. Alpha Arabian's unwavering commitment to excellence, a wide array of services, regulatory compliance, affordability, and utilization of advanced technology make it the best choice for pest-related concerns in Dubai.
Don't let pests take over your space or business. For 24/7 pest control services, call Alpha Arabian Pest Control at +971588219677 and reclaim a pest-free environment. Your satisfaction is their top priority, and they are dedicated to delivering Dubai's finest pest control services.