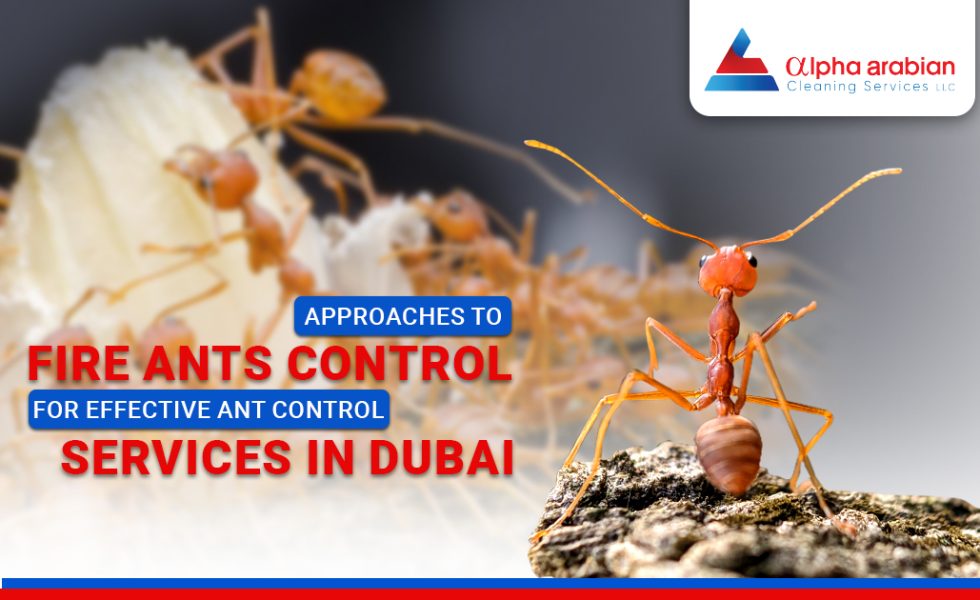 Ants Control
Approaches to Fire Ants control for effective ant control services in Dubai
A genus of fire ants, Solenopsis, poses significant threats to humans, pets, and the environment. In Dubai, these aggressive ants are common and can cause painful stings. This ants Sting triggers severe allergic reactions in some individuals like nausea, shock, chest pains, etc. These aggressive ants tend to displace other ant species, leading to potential consequences for the environment.
Due to the natural circumstances in the area, controlling fire ants in Dubai creates particular difficulties. The best way to protect your home, garden, and family from fire ants is to implement effective ant control measures. Alpha Arabian Pest Control Services offers effective ants control services to control fire ants infestation.
This blog examines some of the best methods to control fire ants and highlights the benefits of hiring professional ant control services in Dubai.
Impact of Fire Ants in Dubai
A fire ant colony was discovered in Umm Suqeim in 1995 which
raised concerns about the spread of these ants . That concerns effect on the ecosystem in Dubai. The Dubai Pest Control Section initiated a survey program to assess the extent of the problem. Due to Dubai's environmental conditions, controlling fire ants presents unique challenges.
In an initial survey, the ants were confined to an enclave between Sheikh Zayed Highway and the coast. They probably entered the soil or plant material through the soil. Trials conducted by the Dubai Pest Control Section to determine which pesticide formulation is most effective under local conditions. One of the challenges faced is the dependence of fire ants on irrigation water, which makes traditional pesticide formulations less effective.
The Dubai Pest Control Section has successfully controlled fire ants despite many challenges.As a result of extensive trials, they were able to develop a bait formulation that was both safe and effective.
Effective Methods for Controlling Fire Ants
Fire ants control is challenging, especially in urban areas like Dubai. Most fire ant populations are controlled with pesticides.But irrigation systems and wet conditions can reduce their effectiveness. Using a specially formulated bait that is attractive to the ants is one of the most effective methods of fire ants control.
A slow-acting insecticide is contained in the bait, which the worker ants bring back to their colonies, eventually eliminating the entire colony. By minimizing risks to native ecosystems and beneficial insects, this method has proven highly effective in eliminating fire ants.
Role of Professional Pest Control Service
To achieve effective fire ants control services, it is essential to hire the services of a professional pest control company, such as Alpha Arabian Pest Control. Our technicians are expert and equipped to handle fire ant infestations efficiently and safely. Alpha Arabian conducts comprehensive surveys to accurately assess the extent of infestations and develop tailored treatment plans.
The treatment plans offered by Alpha Arabian Pest Control provide long-term solutions for eliminating and preventing fire ant colonies from re-establishing. Regardless of whether you are a homeowner or a business, Alpha Arabian's technical experts are dedicated to providing you with valuable information and control programs.